Bamboo For You
Organically grown bamboo is laminated and made into large pieces. Cutting boards are made from these, and the leftovers are smoothed into these beautiful shapes, approximately 2.5" across. We imprint them with messages that are special to us, and to your customers, too. Moss green see-through pouches and boxes are included, too. You can buy an assortment, or order by title. See the sub-categories for general gift titles and scripture verses.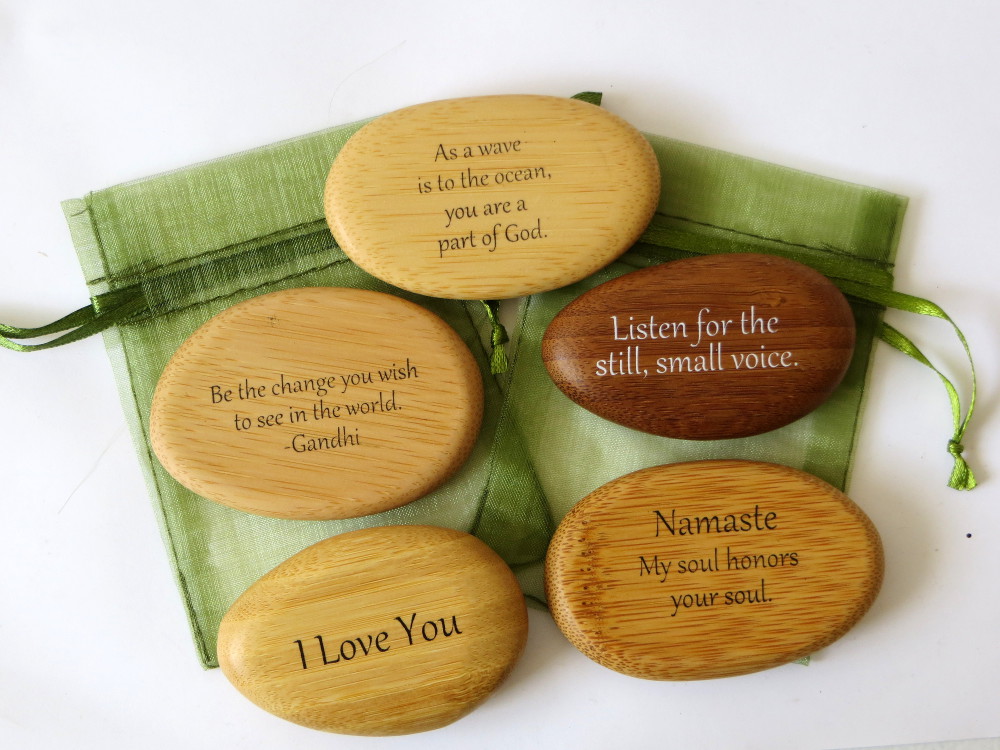 I really can't express how amazing those little stones are — I've been giving them away since 2001! Linda
These stones are a beautiful way to add a smile to your day. Place them into a decorative glass bowl and voila — you have an instant motivational conversation piece. Great pick-me-up! C.M.
You sent me such a terrific selection of colorful stones! They were the most beautiful ones ever! Thank you! Carlabeth
Thanks again for such wonderful products and service. Your company and staff are AWESOME!! Lyndsay
These stones and their message mean very much to me and I know they will touch everyone's lives they come in contact with. E.K.
Given to my oncologist who is keeping me alive after a diagnosis of stage IV lung cancer. This was a beautiful way to say how much I care for this man. He teared up! It's a beautiful piece, perfect. S.G.
Wish I had ordered MORE of these. They totally rock ;) L.F.
Creative, unique, and gorgeous! These glass stones are the perfect gift for any occasion or no occasion at all!! Nicely written and very heartfelt. Debby C
Beautiful is all I can say, love and light and everything I hoped for. S.W.