Seabeans
Seabeans are the seeds of the monkey ladder vine, and they are the second largest seeds in nature! Ours range from 1.5" to 2" in diameter. They are a beautiful chestnut color with slight variations. They are smooth and usually shiny and feel great in your hand. The Monkey Ladder Vine grows in equatorial countries. The seeds fall to the ground and wash into streams and rivers and then out to sea. The seeds you buy have all traveled thousands of miles from where they grew- they wash up on beaches all over the world. That's why we call them Amazing! We print a variety of message on the seabeans and assort them in a general gift assortment (Amazing Seabeans), Environmental Seabeans (quotes and animal pictures), Animal Totem Seabeans, Marine Animal Seabeans and Blessed Seabeans for Christian Stores. You can buy an assortment or select individual styles. A basket and header display with 100 information cards is included with your assortment.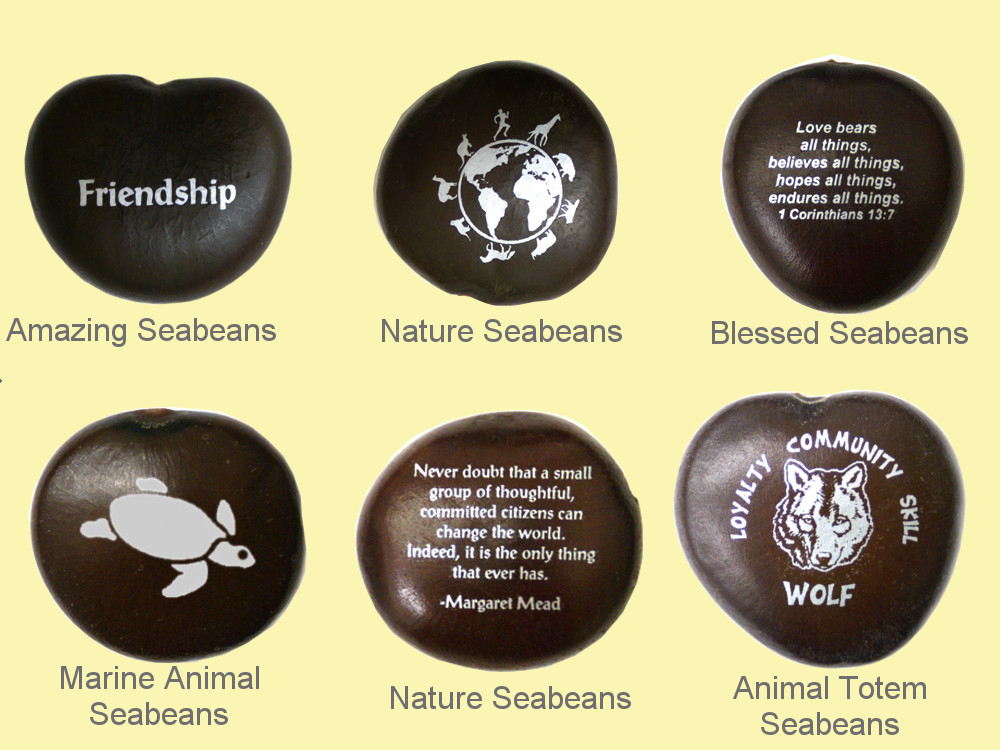 I really can't express how amazing those little stones are — I've been giving them away since 2001! Linda
These stones are a beautiful way to add a smile to your day. Place them into a decorative glass bowl and voila — you have an instant motivational conversation piece. Great pick-me-up! C.M.
You sent me such a terrific selection of colorful stones! They were the most beautiful ones ever! Thank you! Carlabeth
Thanks again for such wonderful products and service. Your company and staff are AWESOME!! Lyndsay
These stones and their message mean very much to me and I know they will touch everyone's lives they come in contact with. E.K.
Given to my oncologist who is keeping me alive after a diagnosis of stage IV lung cancer. This was a beautiful way to say how much I care for this man. He teared up! It's a beautiful piece, perfect. S.G.
Wish I had ordered MORE of these. They totally rock ;) L.F.
Creative, unique, and gorgeous! These glass stones are the perfect gift for any occasion or no occasion at all!! Nicely written and very heartfelt. Debby C
Beautiful is all I can say, love and light and everything I hoped for. S.W.