Welcome to the Season of Celebration!
If you're on the lookout to sprinkle some holiday cheer in your store, hunting for meaningful keepsakes for an event, or need unique giveaways for your organization's holiday event, you're in the right place.
---
Christmas Glass Stone Assortment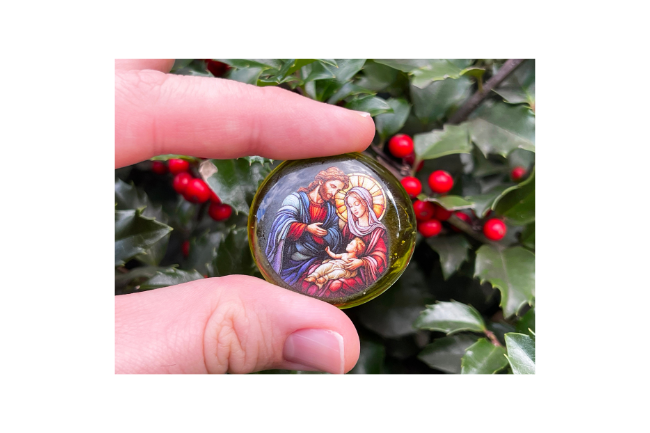 Our Christmas Assortment is a merry mix of holiday cheer. Each stone features a bible verse, a cute Christmas message or a beautiful image which captures the spirit of the season.
These stones have many different uses, including:
Stocking Stuffers
Inserts for Christmas Cards
Christmas Dinner Table Centrepieces
Memorable keepsakes for Christmas gatherings
Thoughtful additions to holiday bouquets
Each piece is a small but meaningful token that brings the joy of Christmas to life.
Holiday Glass Stone Assortment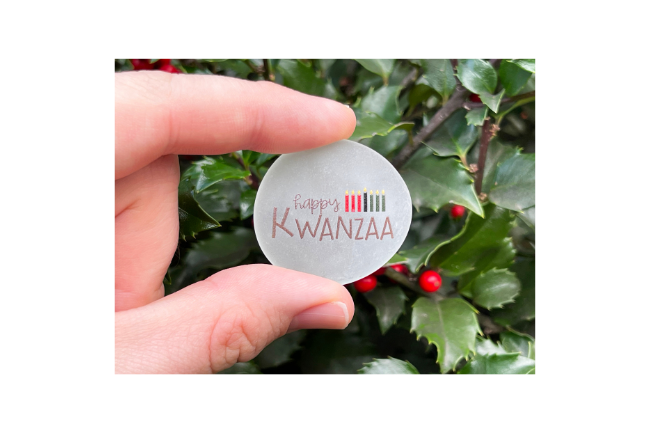 Our Holiday Assortment is a mix of diverse holiday messages designed to cater to a variety of celebrations.
Each stone features beautiful, handpicked holiday messages and illustrations, including:
Merry Christmas
Joy to the World
Happy Hannukah
Season's Greetings
Cheers to the New Year
Happy Kwanzaa
The stones can become a timeless keepsake that recipients can cherish for years to come.
Christmas Slate Coasters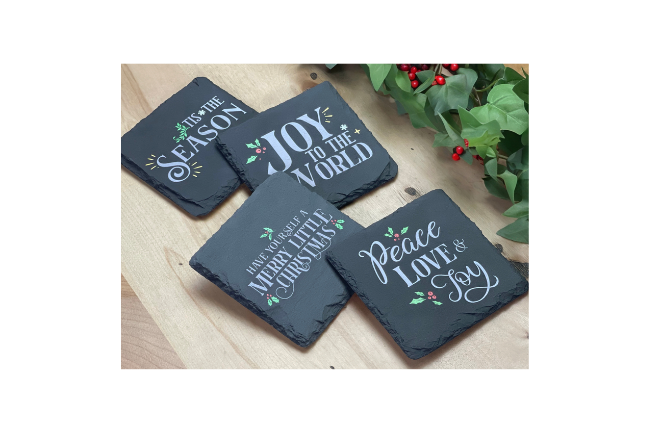 These elegant coasters feature festive designs that will brighten every table this holiday season! Made from high-quality, locally sourced slate, they're not just functional but also a stylish addition to holiday decor.
Designs include:
Joy to the World
Have Yourself a Merry Little Christmas
'Tis the Season
Peace Love and Joy
Whether you're hosting a Christmas dinner party or enjoying a quiet evening at home, these coasters are the perfect way to add some festive cheer to your decor.
Nativity Slate Coasters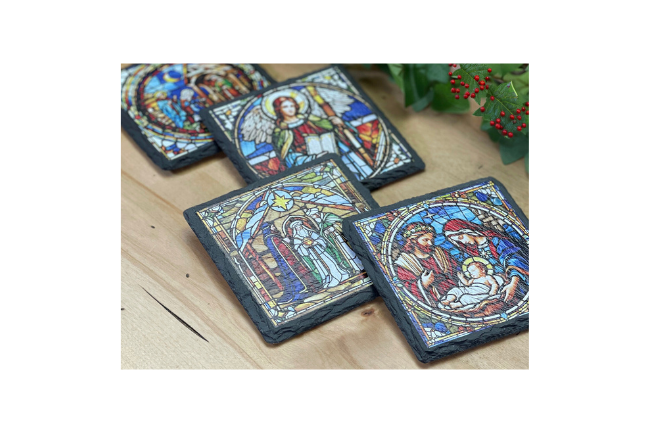 Commemorate the true meaning of Christmas with our Nativity Slate Coasters. Each coaster features a beautiful nativity inspired scene printed in the style of stained glass - a testament to faith and the true essence of the season.
Christmas Plaques
Our beautiful Glass Plaques serve as timeless reminders of the deeper meaning of Christmas, with each one conveying a unique message.
Available in five different styles and a variety of colors, each piece will seamlessly blend with your holiday decor for years to come. Find the perfect spot in your home and let them be a constant reminder of the season's joy and blessings.
---
At Lifeforce Glass, our commitment goes beyond the creation of products. We always aspire to create pieces that enrich our customers' surroundings with messages that reflect the essence of what matters most. If you have your own designs in mind for any of our products, send me an email at lauren@lifeforceglass.com. I would love to hear from you.