May is Mental Health Awareness Month, a time to focus on the importance of taking care of our mental health and destigmatizing mental illness. Mental health is a crucial part of overall health, yet it is often overlooked or dismissed.
Many of you may already be familiar with our commitment to supporting mental health awareness through our partnership with the 988 Suicide & Crisis Lifeline.
We have created a stone with the phrase 'problem shared problem halved', and these stones are offered free of charge upon request with wholesale orders. Read more about the partnership here.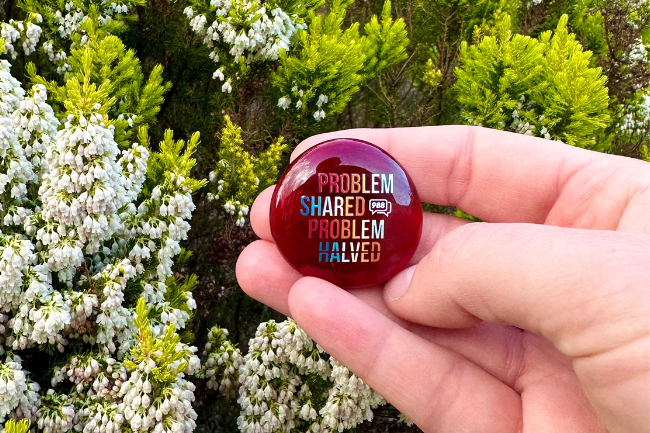 ---
When we first introduced this new stone last year, we were humbled and grateful for the overwhelming positive response we received from our community. It was amazing to see how many people were eager to join us in our mission to promote mental health awareness and support those who are struggling. Over the past year, we have received stories from individuals and organizations across the country about how the stones are being used in their communities. From being placed in public parks and colleges, to being handed out at mental health support groups and events, the stones have become a symbol of hope and a source of comfort for many. We are deeply moved by these stories and proud to be part of such a supportive and caring community.
As it is mental health month, we wanted to take the opportunity to share some of these wonderful testimonials over the next few weeks.
Dear Lifeforce Glass,
Thank you very much for providing one hundred 988 Suicide & Crisis Lifeline Stones that we are distributing to students in and around Fairfax County, Virginia! Our group, The Landing, is a Christ-centered recovery group for students in middle and high school, which meets at New Hope Church in Lorton, Virginia.
We received a youth-led mini-grant from the Fairfax-Falls Church Community Services Board (CSB) for youth to plan and lead a project to reduce the stigma associated with mental health issues among their peers. Our project had three parts. Part one was creating social media posts aimed at reaching other students. In part two, work the students did in our recovery group to improve their mental health (e.g., art and writing) was anonymously displayed for others to see. And part three was putting together one hundred self care kits containing items the students helped identify that can be used for reducing anxiety and increasing hope.
The self care kits are being distributed to students through school counselors and through The Landing. Each self care kit is a backpack containing many items, many resources and a personal note from a student in our group, all designed to encourage and equip the student receiving the self care kit. Included in each self care kit is three Stones from Lifeforce Glass: one 988 Suicide & Crisis Lifeline Stone, one "You are not alone" Stone and one John 3:16 Stone.
We learned about the 988 Suicide & Crisis Lifeline Stones at the Burlap and Daisies home decor and gift shop in Manassas, Virginia, where these 988 stones are prominently displayed and promoted. We are very grateful to Burlap and Daisies!
These 988 Stones are a very important reminder for students that the 988 phone number is always there for them! Anyone can dial 988 to talk to someone who is waiting to listen to them and help them!
We are so glad that Lifeforce Glass designed, produces and promotes these 988 Stones! And we are very grateful to Lifeforce Glass for freely and eagerly sending us one hundred 988 Stones for inclusion in the self care kits! Thank you very much, Lifeforce Glass, for your generosity and support! God bless you!
Sincerely,
The Landing at New Hope Church
---
If you would like to know more about the partnership or would like to submit a testimonial regarding our 988 stones, please email lauren@lifeforceglass.com. We would love to hear from you!