We all know that different customers have different styles. Many of you LOVE the messaging on our Inspirational Glass Plaques, but we felt the style wasn't a one-size-fits-all. So, we've been working hard to create modernized versions of our Inspirational Plaques - versatile enough to work in any setting.
Inspirational Lucite Plaques
These stunning, free-standing pieces don't require a base or stand. Printed directly onto a 1-Inch-thick piece of crystal-clear Lucite, each piece is diamond cut and hand polished.
The borderless design with transparent edges enhances the piece with a striking depth that subtly changes with the angle of vision - taking on an almost 3D quality.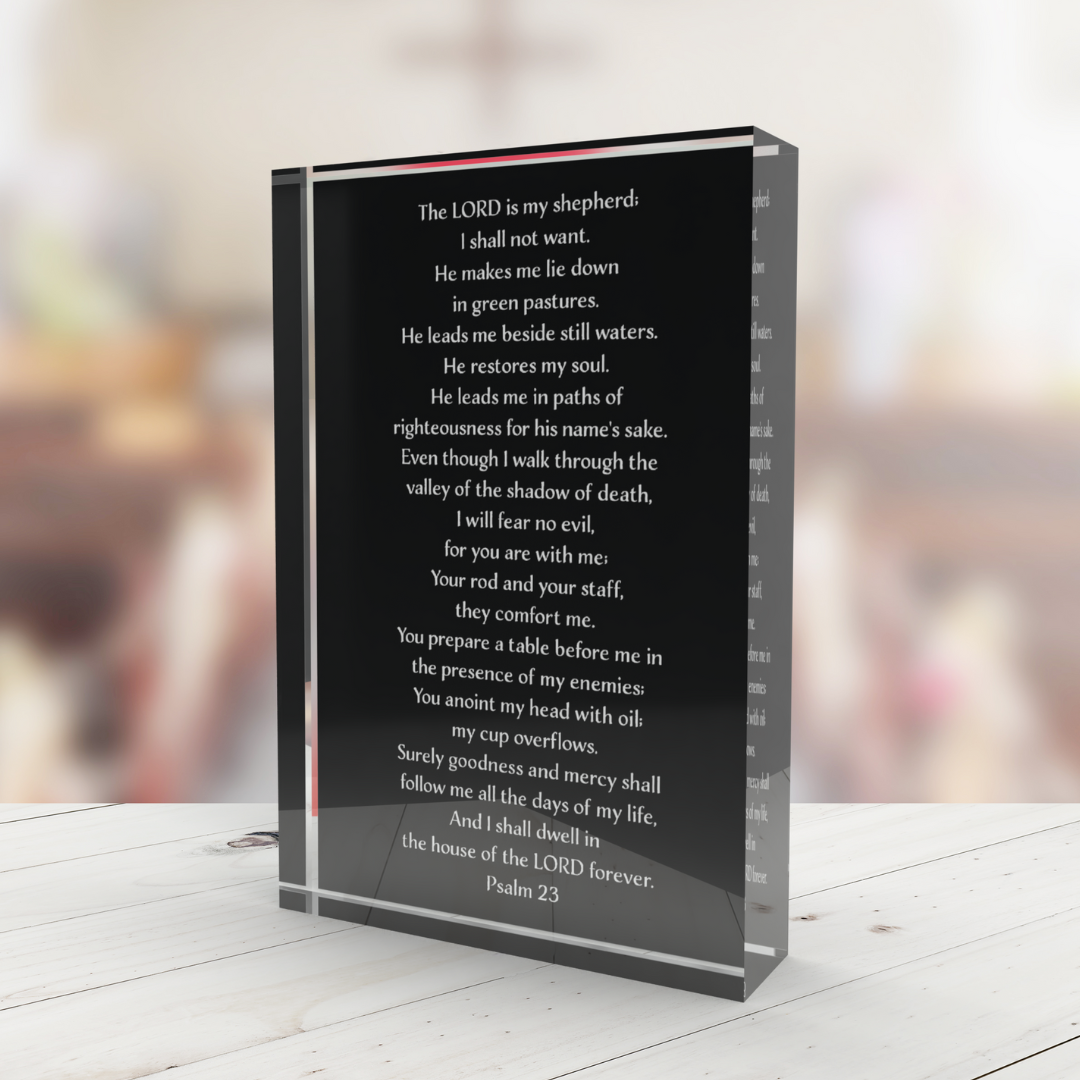 Custom Plaques
Our specialty has always been custom printing. If we don't already carry what you are looking for, we would be delighted to work with you to bring your ideas to life.
Much like our custom stones, the applications for our Custom Lucite Plaques are endless:
Create location-specific souvenirs. These are fabulous products for store owners, especially in tourist towns and cities. Think images of maps, landmarks and other prints you would typically see on a postcard, only far more interesting.
Create totally unique merchandise for your store. If there's a certain theme that runs through your store, why not create something that can only be found by shopping with you.
Make museum shop merchandise for specific exhibits. Museum stores are a critical part of a museum's operations, in that the profits they earn usually help fund their institution. We understand there's always the risk that items will be left over once an exhibit has left the building, which is why we offer low minimums.
Give to everyone at the family reunion. Whether it's a photo of a family vacation, your family tree, family crest or even an inspirational quote, this will be a keepsake that can be cherished for years to come.
Share your artwork. If you are an artist looking for new ways to display your work, then our Lucite Plaques are just the ticket. Our specially developed printing techniques have been created to accentuate details like brush strokes and material textures, resulting in the most realistic impressions.
Create awards. Fully customizable awards are a beautiful way to recognize achievements of employees or students. Something the recipient will be proud to show off. If you are a store owner, our more generic awards are also a big hit around certain holiday's. I mean, what mother wouldn't want a "World's Greatest Mom" award on Mother's Day?
Create an advertising specialty. Offering consumers premium items like our Lucite Plaques helps build brand loyalty, establish long term relationships with your customers and encourages repeat business.
Facilitate Awareness. Our plaques a great way to help spread awareness on a wide range of important issues. Some campaigns we have worked on in the past include Black Lives Matter, Breast Cancer Awareness, LGBTQ and Diversity and Inclusion for All. Whatever the cause, they can be given as free gifts or used to help generate funds.
Other popular uses:
Promote school spirit
Make a point with giveaways for conferences and meetings
Commemorate an occasion
Celebrate a special birthday
Share your philosophy
Use in your psychological, chaplaincy or social work practice
Rewards info at hotel desks
If you would like more information on any of our products, please don't hesitate to reach out by phone, email or live chat. We would love to hear from you!